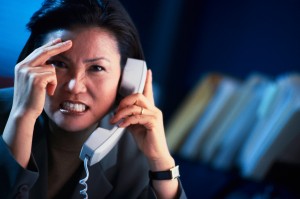 For the past year I've been receiving calls from an automated message from 29 Prime (I know it's them specifically and not a affiliate as I talk to the representatives each time they call me) asking me to "Press 1 to update your free Google 411 listing".  Since I know there is no Google 411 listing anywhere (proof = http://lmgtfy.com/?q=google+411) and  I'm always curious to what they are trying to sell so I press 1 to talk to a representative.  In the past year of getting these calls (around 1-5 per week) I've heard so many promises about rankings but many representatives that can't answer questions.   I've even been mysteriously disconnected when I start to ask the hard questions about what would actually be done.  When I try to call back the number it never connects to the company.  It seems very elusive in my opinion.  The website says they have a "Do not call list" but guess what… my number has been on it for 9 months now and I still keep getting calls which I've verified as 29 Prime with the representative that answers.
________________________________________________________________________________
Read what Google really says about SEO companies:
"Be wary of SEO firms and web consultants or agencies that send you email out of the blue"
"No one can guarantee a #1 ranking on Google."
"Be careful if a company is secretive or won't clearly explain what they intend to do. "
http://support.google.com/webmasters/bin/answer.py?hl=en&answer=35291
_________________________________________________________________________________
Here's a list of the phone numbers that I personally have been called from and I've tried to call back:
859-740-2334
619-704-2766
503-468-5227
915-996-2895
405-283-8500
949-797-7199
As I suggest with all people that have been called out of the blue, read the reviews from others that have used that companies service.  Many of the reviews seem false (but I can't be sure) but I do know from just my little blog here that people are posing as customers that really aren't.  I have the emails and comment ip address's to prove this.
Here's a couple places where I found reviews:
http://whocallsme.com/Phone-Number.aspx/9159962895
http://www.yelp.com/biz/29-prime-newport-beach-2
http://complaintwire.org/complaint/eqQBAAAAAAA/29prime-com-or-29-prime-scam-fraudulent (includes information about their previous companies and scams)
http://www.ripoffreport.com/directory/29-prime.aspx
If you're looking for search engine optimization then go with a company that has good, real reviews, satisfied clients (ask for a list and contact them to see what they say), that can answer the tough questions about what is happening, and that is being transparent with what it is doing…
Get in touch with my company www.delusionaldesigns.com if you're looking for web design or search engine optimization.
UPDATE AND EDIT —– 5/13/12
I received a letter today (5/13/12) asking me to cease and desist internet defamation of a certain company.   I've edited my post to make sure that all of my statements and opinions are fact that actually happened to me.  I must disclose that I've never used their services so I can't comment on them.  My issue isn't their service but the way of robotically calling phone numbers that are either purchased or scrapped from web sites.  The representative's I've talked to told me they "got my phone number from my website that isn't ranking highly".
I must state that I never encourage or promote any defamatory statements and all comments on my blog.  All comments belong to and are owned fully by the person making thecomment.  Just the same as Google, Yelp, and a million other review based web sites around the internet.  Here is a link to exactly what a defamatory statment is – http://www.citmedialaw.org/legal-guide/what-defamatory-statement#perSe. As stated above all of these statements and opinions made by me are fact thus not defamatory at all.  Also another good read on substantial truth – http://www.citmedialaw.org/legal-guide/substantial-truth
ANOTHER UPDATE —— 5/13/12 —-
I just got off the phone with a representative there (after three calls from me which two were dropped and the third was just a message to get back to me).  I told them I had received the Cease and Desist letter that they sent and I had revised all of my reviews and postings to make sure that everything I said was FACT.   The original post was opinion based which I've willingly now changed to all fact based.
UPDATE —- 3/13/2013 —
503-208-7620 -  Another company called Cyber Center or MyCyberCenter.com (their on page SEO sucks!) doing the same robo calling tactics as 29Prime.  This is a local number to Oregon (my current location) so it's obvious they are targeting this geographic area.  I assume it must be profitable… at least for a little while until they get busted robo calling people over and over again.  The representatives I talked to were friendly though but they wouldn't clearly answer my question about "Are you actually employed by Google?" since their opening pitch was all about being a Google Places Specialist.  Hint Hint… It's called Google+ Local now.
UPDATE —- 3/21/2013
206-445-6301 – Another company called Our Local Listings (no website to be found?!?) called today.  I talked to two reps which guaranteed me they could rank me for any keywords I'd like.  I was skeptical so I asked for sure if they could rank me for "Portland SEO" and "Portland Web Design".  Both of those terms are extremely competitive (which I know).   The first rep. transferred my call to another rep. without telling me.  The second rep. asked to forward me to a manager because I surprised him by telling him that both of those terms are not local search terms (Google's 7 pack with the side map are known as local search results) so they would be much harder to rank for.  While waiting for my call to be forwarded it mysteriously was disconnected.  That's convenient.  I tried to give a call back at the same number but it's just a recording stating they have to have an automatic removal from their calling list to comply with FCC regulations… sounds sketchy to me.  I would think that most reputable businesses wouldn't have this type of recording on any kind of phone line.
UPDATE —- 5/16/2013
503-928-4933 – Another company that is robo calling phone numbers.  They use an Oregon phone number (probably because I'm more likely to answer) but are a California company?!?  From what I see on their web site – http://www.localseosuccess.com is owned by another company, Innovative Holdings, INC and that they have another company doing (maybe the same company) their SEO for them called Victory SEM.   I'm not sure of the quality of their service but they are making it sound like they are working for Google when they robo-call me.  No thanks!