The new face lifted version of Google Analytics is out.  I can't say yet how much I like it or don't as it's still early on but here's my initial reaction.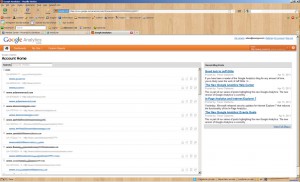 My first impressions are that I don't care for it.  But it has to be pointed out that I have that feeling because I'm familiar with the old analytics.  I liked the compact overview of the listing of my sites and a quickly viewable percentage change in the last month (or week/year).  This new view has the sites less compacted and a lot of scrolling has to be done to get to where you want to be at.  I know, I know, there's a search function but I'm more likely to scroll and not leave the mouse for the keyboard to find the site listing I'm looking for.  I'm sure the big G has done analytics on it's analytics which I can only assume that shows most people using analytics probably have one site they are tracking.  I'm in the rare scenario of having 50+ analytics accounts which I watch and manage on a daily/weekly basis!
I can say that for my scenario of having multiple sites on one account, I'm glad that my clients sitting over my shoulder at my desk / computer don't see my other clients stats.  Since I manage 50+ analytics sites there's many sites that are seasonal, that don't get any of my services to boost their traffic, are down for various reasons (redesigns, new sites, and clients whom don't like to pay bills and have had their site shut down), or they aren't paying attention to their website that have negative growth shown.  That doesn't look that great when a client quickly sees a glimpse of the overview with red lettering (indicating a drop) on any of the accounts.  Since I'm completely open with all my clients I can explain as to what's happening but if they don't ask and just assume then you never know what they are thinking…
So over all this is a pretty basic review of the new analytics version but it's still fresh and I haven't had too much time to get to know her 🙂  Check back with me as I write more about my feelings on the new look of this ever so important tool that any and every website should use.
How do you feel about the new look?  Like it or hate it?
EDIT:
As I play around with Analytics it's obvious many things are missing.  The biggest to me is the percent differences between dates ie. last day/week/month/year (d/w/m/y) compared to this current d/w/m/y in percentage reporting.  But I've found the answer… it's coming.  Read here