I wanted to let the internet know and spread the word of a scam that is targeting small business's in Oregon.  I got a letter today from a "Corporate Regulatory Committee" in Salem, Oregon but really this is a scam.  They ask for $238 in order to file an annual report to the Secretary of State according to Oregon statute 60.787.  Being in busisness for years I know that I've been sent a letter directly from the secretary of state of Oregon asking for me to update my LLC license and for the renewal fee's.   This company, "Corporate Regulatory Committee", is just trying to capitalize on something that isn't needed and looks official to scare business's into doing this.
As any informed business should do I did a Google search.  At first I didn't see any thing about it but hidden down a few listings was a post from the John Gear Law Office.  In their post they also point out that this is a scam and to not send any money to this company.  The original post is here.  Maybe the "Corporate Regulatory Committee" shouldn't have sent a law firm a scam letter 🙂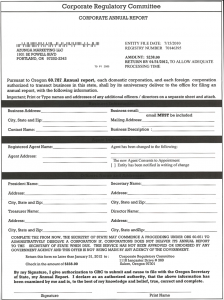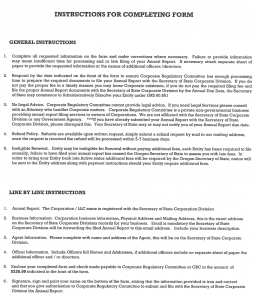 Taken directly from the State of Oregon's website is a quote from Oregon 60.787.  " The Secretary of State shall mail the annual report form to any address shown for the corporation in the current records of the office. "
I really don't like these letters.  I get them all the time from domain registry companies.  They look official, they scare the business into doing something that they don't need to do, they cost business's thousands of dollars a year (if not millions, overall), and they are a waste of time.